The heaviest rains fall on the house that leaks most. This Japanese wisdom has apparently struck many advertising minds for the last several years.
In 2023 every advertiser is familiar with the concept of programmatic. However, as time went by since its massive adoption, many brands have reconsidered the way they manage advertising, looking for holes and gaps that cause their media houses to leak.
"If you want something done right do it yourself" – thus, moving programmatic in-house now shines as the bright sun on the horizon of numerous brand strategies. However, is this approach really worth it?
The evolution of in-housing hasn't been idle in the two years since our last coverage. As such, it's high time to delve into the state of in-house programmatic media buying in 2023. Today we will tell you about what it implies, who is adopting it, and how to make the shift timely for your business.
What is In-House Programmatic?
By this point, you should already know programmatic is the automated buying and selling of online ads via an RTB auction. The concept of "in-house programmatic buying" means the brand is self-sufficient (or almost self-sufficient) with its advertising tech stack.
But why opt for an in-house or hybrid solution? Well, the classic "brand–agency" relationship has gotten a bit downhill over the years. Brands lose control and clarity over their ad campaigns when fully outsourcing programmatic tasks.
Rather than undergoing couple and family psychology treatment, many advertisers have changed their media buying approaches, becoming more autonomous in their programmatic.
What's Up With Moving Programmatic In-House in 2023?
The industry is growing, and programmatic advertising feels better than fine. In June 2022, only the European digital ad market was estimated at 92 million EU, with programmatic being responsible for 57% of display ad spend.
Now for the fun stuff. You see, there are two major pieces of research on the state of in-house programmatic advertising: IAB's "Attitudes to Programmatic Advertising Report 2022" and Digiday & Bannerflow's "State of In-Housing 2022". While both of these analyze European in-housing in 2022, they don't exactly stack up.
According to IAB Europe's 2021 report, over 50% of advertisers operated a self-sufficient (where the full ad tech stack is owned by the brand – we'll dive into that later) in-house model. However, in their "Attitudes to Programmatic Advertising Report 2022," this figure dropped to 16%.
On the contrary, "State of In-housing 2022" from Digiday & Bannerflow states that 53% of the respondents have fully-independent in-house advertising setups.
Confused? It's understandable. Since both these media are well-known and respected in the advertising community, it's hard to question either expertise.
The IAB's report heavily focuses on investments in programmatic and shows data not only on advertisers but agencies and publishers.
Digiday & Bannerflow, on the other hand, survey marketers only and dive into the specifics of their in-housing experience. These differing methodologies and focus audiences likely cause the contradiction. To make things fair, we'll specify which report data we use - and you can make your own judgment.
3 Ways of Bringing Programmatic In-house
Now, where did we stop? The idea of an independent full-stack with no need for ad agencies sounds simple and intriguing. But a bit of common sense will hint at why it's hardly optimal for many less-scaled companies.
To understand the roots of the dilemma deeper, we'll need to distinguish 3 models of moving programmatic in-house:
Full-Stack Model of Programmatic In-Housing
Advertising giants like Netflix, Procter & Gamble Co., and Unilever became brands with in-house programmatic stacks long before the hype train. According to "State of In-Housing 2022," 53% of brands have joined them, coming up with independent solutions.
But what exactly defines this approach? Here, the brand takes on multiple roles, developing the product autonomously plus forming an in-house media buying team. A full-stack approach requires a team with exceptional technical and ad ops expertise.
In this case, the tech stack will likely include the following:
a proprietary demand-side platform (obligatory);
a data source – DMP or other options (optional);
Needless to say, integrating all of the above is a complicated task that requires proper investments, data management, and expert staff. But if done correctly – you get an independent solution with full control over ad campaigns and the ability to grow further.
Hybrid Model of Programmatic In-Housing
The hybrid model combines the advertiser's strategy and agency resources. Usually, the tech side, namely a customized DSP, lies on a vendor's shoulders, while advertisers hire a dedicated team of in-house experts to operate it.
The ingredients of this mix often vary, as the roles of a heavy-lifter in this collaboration. To be completely honest with you, it's kind of difficult to strictly distinguish the "hybridity" of a partnership like that.
The very definition of an ad agency is hybrid by default because an agency can't function without a team. It's similar to the advertiser, as the brand with a team and without a tech stack is also hybrid by default.
To avoid further confusing you, the "State of In-Housing" defines this approach as "an in-house agency set apart from the marketing team, occasionally supported by external agencies," and we'll stick to that as well.
The demand for hybrid in-housing is high. According to Digiday & ADTH report, 40% of marketers will focus on partnering their in-house experts with third-party technology vendors in the near future.
Why? Because it's the ultimate compromise of control and affordability for the brand. The advertisers get complete transparency over media buying without the risks of investment into their proprietary technology. Plus, if the brand decides to part ways with the vendor, they remain in charge of data.
Self-Service/Full Outsource
Let's set this straight, self-service approach ≠ full outsourcing. The percentage of outsourcing programmatic to an ad agency has fallen to a mere 13% (according to "Attitudes to Programmatic 2022"), and it's not hard to deduce why.
Full outsourcing ignores many bonuses of setting up an in-house programmatic, but we don't tag this approach as "bad" or "ineffective."
This is an option for companies who don't have the resources to create a programmatic tech stack, spend a ton of money on creating an in-house team, and learn one million things about ad tech, which is a very complex and unstable environment.
However, some of these businesses are sister companies to ad agencies. Technically they are still outsourcing, but the data and results are shared, so it's a bit different.
On the contrary, self-service is a cheap (free platform + media buying expenses) and simple way to try "in-housing." With this option, the consultants, namely tech vendors or agencies, could teach the brand to operate with the tech stack. At the very least, there's an option to have an account manager who could track the brand's progress and assist with tech issues.
Think of it as a transitional phase from outsourcing to hybrid in-housing.
It can't boast the transparency and autonomy of the above options, but the team requirements are lower, plus it's a safe and affordable path towards further in-housing.
The primary instrument, in this case, is a self-serve DSP. Advertisers could upload creatives and change ad settings with the full functionality of a trading desk. However, unlike hybrid in-housing, the brand that uses a self-service approach doesn't technically own the ad data.
Drivers & Barriers to In-House Advertising
At this point, you should've sketched the benefits of in-housing in your head. Still, no one would answer to "Why bring programmatic in-house?" better than the advertisers themselves.
From the answers of the surveyed marketers in "Attitudes to Programmatic 2022" we can distinguish these particular drivers:
57% - Control & transparency;

An in-house solution provides clarity over the media buying process. Consequentially, this means that advertisers could dig deeper into the mindset of their consumers to sell stuff better.
46% - Better target audiences discovery;
Programmatic tech has a ton of targeting options and ad creatives configuration. In the hands of qualified employees, this is "à bon ouvrier, bon outil."
39% - Accessibility of ad inventory;
On-the-fly A/B testing, campaign tweaking at any moment, and permanent access to campaign data – in-house advertising lets the marketers breathe a bit more freely.
Now what about the drawbacks? Aside from the obvious expense and expertise needed to move programmatic in-house, the surveyed marketers of "Attitudes to Programmatic 2022" name the following barriers:
48% - Building the workflow;
One of the biggest challenges for in-house teams is to decide which skill sets to bring in-house and how to implement them correctly. Moreover, despite the level of expertise that the in-house tech stack gives, the team still needs to deal with effective data utilization and performance measurement.
In-house media buying is still media buying. With well-known concerns like fraud prevention, brand safety, and ad viewability, there's no rest for the advertisers.
37% - Recruitment and staff development;
With over 4.4 million US residents quitting their job and less than 25% of advertising professionals satisfied with their position, it's no wonder why hiring and training staff is such a big concern. Some call it the "Great Resignation," and it has its effect on programmatic in-house as well.
For a more detailed picture, just check the infographics attached below.
Want to see full infographic?
Please leave your email here and we will send it to you.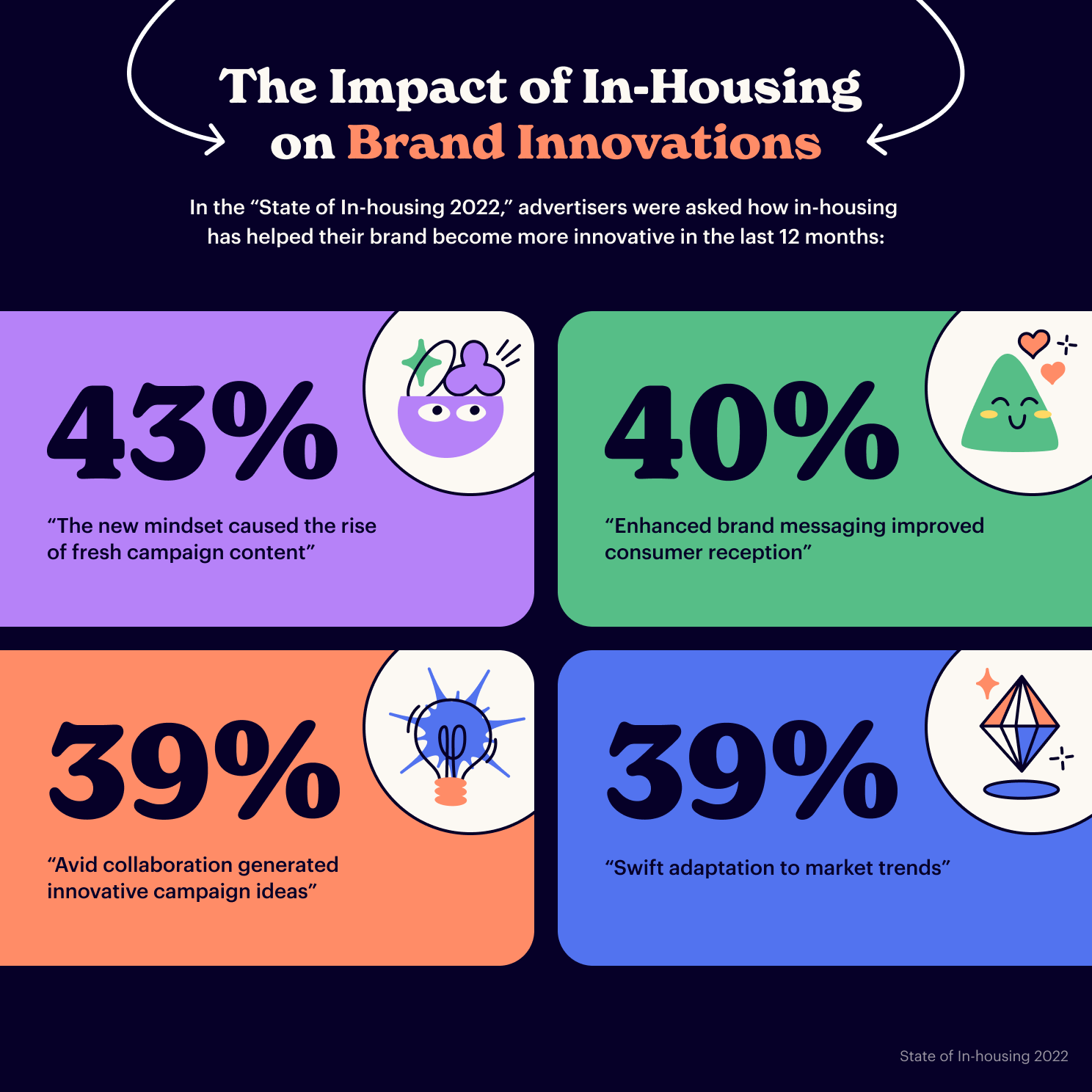 4 - Step Guide to Bring Programmatic In-House
So, now that you're in the loop, let's summarize the in-house programmatic media buying into a short guideline. We'll briefly glide through the aspects you're already familiar with and shed some light on what we've missed.
Review Your Budgets
Once you have your team, the road splits into three ways we've already discussed. You already know the specifics of each (full in-house, hybrid, self-service), so all we can give here is a recommendation.
Firstly, let's look at the numbers. The most hyped adopter of full-stack in-housing in recent years, Bayer, had an advertising budget of $500 million once they started developing an in-house solution. Netflix spent $1.67 billion on advertising in 2021, Unilever – 7.8 billion dollars in 2022.
What we're trying to say is that full in-housing is generally a game for the big boys. The benefits are worth it, as Buyer cut nearly $10 million of expenses in the first 6 weeks of moving programmatic in-house.
But, developing and maintaining a full tech stack will cost $1.5 - $2.5 million per year. Add around $400k per year to spend on a team (the necessary part for each approach), and there you have it.
On the other hand, aside from team expenses, hybrid/self-serve advertising is a lot more affordable. Most of the white-label DSP services have a subscription-based buying model, while self-served are basically free (with nuances). If you don't like something about a particular service – you could always switch the vendor.
Pick the Programmatic In-Housing Model
Ok, so what about the general philosophy of each model?
A self-service approach is suitable for taking "baby steps" with in-housing. It will give you the basics without major investments, but you won't earn much(third-party will take about 10-15% of your earnings). Afterward, you could decide if in-housing works for you or not.
A full-stack in-house is highly beneficial in the long run. Once you come the long way of gathering a tech stack, finding proper financing, and getting experienced with programmatic, the effects will be mouth-watering. But as you've noticed, this is a path for a true ad colossus. If you're not ready, you'll end up like Vodafone.
On the contrary, a hybrid approach opens the door to similar benefits without getting through the above hurdles. Surely, it's not 100% autonomy like with a full-stack approach, but do you really need that?
Hire an In-House Media Buying Team
We've discussed how much it will cost to hire an in-housing team, but what does it consist of?
Your clique strongly depends on the niche and the vertical. To put things generally, the respondents of "State of Programmatic 2022" brought people who specialize in visual design (30%), online video production (26%), and social media/content strategies(28%).
If we were to describe a standard programmatic crew, it would consist of the following:
Media buyer;
Copywriter
Creative designer;
Front-end developer;
Programmatic strategist;
Ad operations specialist;
According to Digiday's research, 73% of advertisers named hiring talent the biggest barrier to bringing programmatic in-house. No matter the in-housing model, gathering a team of competent people is your first priority.
Establish Your Programmatic Tech Stack
Remember how we've told you about the blurriness of the term "hybrid in-housing" and how different it can be? Well, there's a golden compromise between spending several million dollars on tech stack and having limited freedom.
Subscribing to a white-label solution means having the tech stack of a huge company with full in-house advertising at a reasonable price. The user of a white-label DSP has a tool without a brand tag that can be rebranded to his company's needs.
This comes as more affordable simply because a WL DSP is a ready-to-use technology, and you can cross out the development costs.
For example, a basic subscription to Epom white-label DSP will cost you a little more than $250 per month. It's not some kind of charity, you still pay for the traffic, but as a result, it's still a cost-effective choice for almost any business that's not a global conglomerate.
Transform Your Business with Programmatic In-Housing
Programmatic advertising is becoming more in-house as time goes seems natural once you grasp the better transparency, control, and cost-effectiveness this change brings. Full outsourcing still has its use cases though, so watch what suits your needs better.
We are sending a warm "Thank you!" to every researcher that helped to create this article, and we hope that our guide will help you better understand in-housing to make the right choice for the future of your business.
Start making these choices today; check out the benefits of in-housing with Epom white-label DSP free trial!
Embrace programmatic in-housing with Epom white-label DSP.
Try for Free