An ad server is the core of impactful cross-channel advertising. Knowing what an ad server is and how the ad server works is the foundation of your ad tech knowledge, a number one stop in your advertising journey. Let's embark on this path together and examine the ad serving process from the inside.
If you are about to set up an ad network or skyrocket your publishers' revenue with digital advertising, the choice of an appropriate ad server software will be your starting point. Ad servers are the building foundation for companies that float in the online advertising industry.
The first ad server was introduced in 1995 as a major breakthrough in the industry. In the modern 20s, already dozens of powerful ad servers enable precisely targeted, automated, and cost-effective online advertising for both publishers and advertisers.
We decided to take a closer look at the concept of ad serving technology, the anatomy of the ad server solution, and its major benefits to all players. Join us today to figure out how to find and pick the best ad server for your business.
Keep reading or watch Sergey Shchelkov, Sales Executive at Epom, giving an intro to ad serving and explaining how ad servers work in simple words.
Definition: What is an Ad Server?
An ad server is a web server that hosts information about ads and delivers advertising content to different digital platforms, websites, and mobile apps. Just like a web server stores all data about your website and shows relevant pages to the end user, the ad server places ads in the right place and shows them to the right audience.
This is a basic definition of past ad servers, but what is an ad server like today?
Modern ad servers outgrew their initial purpose. They are no longer simple pieces of software designed to store and transmit data. Today, ad server software allows you to manage and optimize your media buying activities along with hosting and serving ads. Since this ad tech breakthrough, ad servers are often called cross-channel ad serving platforms, enriched with analytics, performance tracking, and other advanced algorithms.
There are two types of ad servers: 1st party and 3rd party. The first piece of software is used by publishers, the latter — by advertisers. Most ad serving platforms, including Epom ad server, offer unified solutions that combine both types at once. These full-stack ad tech products are often used by ad networks with their advantage to manage both supply and demand-side partners in a single interface.
What is a 1st-Party Ad Server
A 1st-party ad server is a publisher's tool through which they sell their inventory, primarily to their direct supply partners. Managing multiple partnerships is possible in one interface.
Using a publisher ad server, a website owner obtains full control over ad placements and ad serving methods. On top of trading ads with already known connections, publishers may engage in a waterfall via ad tags or insert a header bidder in their website code to take advantage of a real-time header bidding auction. App developers can implement an SDK.
Such granular fine-tune of the ad slots leads to better fill rates, increased yield from monetization, and the possibility to avoid or quickly address issues like malware invasion or high latency. The best publisher ad servers give you the freedom of customization and a rich choice of ad formats, so publishers may run any campaigns from display and video to push and rich media.
The only possible restriction may be the lack of demand partners — a 1st-party ad server is 100% self-serve. Negotiations with advertisers or other demand sources and the setup of an ad serving process falls upon you.
Key Features of a Publisher Ad Server
The basic function of a 1st-party ad server is the ability to add unlimited number of websites, zones, and ad placements on your dashboard. For example, this is how you create an ad placement in Epom ad server for publishers:
Besides the essentials, modern first-party ad servers also offer:
Advantages of Using Ad Serving Platforms for Publishers
Ad serving can be done in an old-school way by connecting partners via email and negotiating with them separately. But besides being inconvenient, this approach is not viable in 2022. Instead of getting bogged down in the past, publishers take the following advantages from using a 1st-party ad server:
Connect with multiple demand partners and manage your mutual campaigns in one interface.
Automatically serve ads after setting up predefined conditions, also called zone rules.
Track impressions, clicks & conversions and get consolidated reports for your placements.
Optimize ad placements and get more revenue from monetization.
Engage in a waterfall and RTB auction, maximizing fill rates for each inventory slot.
What is a 3rd-Party Ad Server
A 3rd-party ad server is an advertiser's tool used to launch, manage, and optimize their digital advertising campaigns.
In most cases, they're buying traffic directly from their partners, without being involved in any kind of auction. Direct media buying is still a more widespread method to buy premium inventory than programmatic. So despite the common myth of the advertising world being fully occupied by programmatic, the use of advertiser ad servers is far from dead.
Why exactly is an advertiser ad server labeled a "third-party"? That's because a 1st-party ad server loads an ad tag and eventually serves an ad, being closer to the audience in the ad serving technology chain. A third-party ad server accepts website requests and transmits data about the ad back to the publisher's ad server. It doesn't interact with the website first-hand.
Thus, advertisers use 1st-party ad servers to collect data, track their ad performance, and apply automatic optimization for underperforming campaigns. An ad serving platform acts as a traffic source aggregator, where the complete set of information about the advertiser's media buying activities is stored.
Key Features of an Advertiser Ad Server
Just like publishers add websites, zones, and ad placements, advertisers create new ad campaigns and upload creatives that match the publisher's inventory.
An ad server for advertisers supports multiple pricing models, including CPM, CPC, CPA and even custom options. It also offers you precise targeting options. This is how the ad campaign settings look inside Epom ad server for advertisers:
After adjusting the basics, it's time to polish your campaign with the following tools:
Benefits of Using Ad Server Software for Advertisers
Without a 3rd-party ad server, the launch of complex cross-channel advertising campaigns would turn into a big chaotic mess. An ad server helps advertisers to structurize their ad serving activities and decrease money lost due to a lack of data and human errors. Moreover, demand partners become able to:
Buy traffic from multiple sources and manage all campaigns in one place;
Run cross-platform, complex ad campaigns, using a wide array of ad formats;
Optimize ad campaigns in real-time and laser-tag the audience with precise targeting;
Monitor results and gather performance data from supply partners;
Relocate ad budgets to best-performing traffic sources.
Why Ad Servers is a Must for Ad Networks
And finally, we're getting to the best part. A full-stack ad server and an ad network together form a symbiotic union, the centerpiece of the whole advertising industry. An ad network without a robust ad server is an endangered species, as it's hard to survive barehanded when everyone else is armed with 1000 and 1 tools for marketing automation, creative optimization, and real-time bidding.
You may note that any ad network already uses a basic ad server. Yet, with a cutting-edge ad serving technology your company may grow to a far greater extent than with an ad server providing standard features only. The ad server defines what type of ad network you will be able to build.
With an ad server on board, ad networks are able to:
Match publishers and advertisers in a single dashboard;
Serve ads across different channels simultaneously;
Monitor both publishers and advertisers performance in real-time;
Initiate waterfall and header-bidding auctions to maximize client's revenue;
Quickly set up campaigns with interactive ad formats like rich media and push notifications.
Key Features of an Ad Server for Ad Networks
Both publishers and advertisers benefit a lot from adopting an ad serving technology. Their vision, however, is one-sided. Having a 3rd-party ad server can be compared to sitting on the left side of the bus and looking all the way out of the left window.
By contrast, publisher clients are located on the opposite side and only see the scenery on the right. Guess who is an ad network? Right: the ad network is a driver here. They see the whole scenery from afar.
Thus, on top of the whole set of 3rd-party and 1s-party servers, an ad network gets additional power controls to push their business forward. When it comes to Epom ad server, among them are:
Classification of Ad Servers by Creative Type
If today is not your first day in the advertising industry, then you must already know: ad networks may have different priorities. There are both all-in-one networks and companies focused on only one traffic type.Epom Market is the example of a one-stop-shop ad serving platform, while Unative works only with push traffic, and so on.
Although ad servers rarely focus on a single type of ad format, the features applicable to specific placements or creatives may vary. Let's review the distinguishing aspects of each.
Display Ad Server
A display ad server is a platform where you can manage banner creatives and placements as well as run display advertising campaigns. The display is the oldest and the simplest form of advertising on the web. It has been around since 1994 when the first banner was launched. Thus, ad servers that support basic banner formats were the first ones.
Display advertising benefits are in its plain nature and accessibility. You can place banners anywhere as opposed to video, rich media, or push notifications, which not every publisher wants to see on their website. Banner ads are also affordable and easy to track for advertisers. Disadvantages of display ad serving are lower CTRs, "banner blindness", and less profitability for publishers.
Video Ad Server
A video ad server is a tool that allows publishers and advertisers to serve video ads, both instream and outstream. Instream ads require the publisher to have a video player on their website — the video will be played as a pre-roll or mid-roll ad in-between primary content. Outstream video may be played anywhere on-page and is a highly-customizable ad unit.
Serving video ads is a bit more complex than serving banners. Your video ad tag should comply with IAB standards, notably VAST, VMAP, or VPAID in case you want to serve an interactive in-stream ad. To make sure their tags work properly, advertisers and publishers use a VAST inspector tool to validate their ad tags.
Video advertising is reported to have 7.5X higher CTR than banners and is overall more engaging than display. At the same time, it's more expensive and harder to implement.
Rich Media Ad Server
A rich media ad server is the one which helps you add placements and serve ads that contain multiple files, including image, video, audio, detailed tracking metric on user's interactivity, and so on. This is a more advanced type of ad serving, so not all ad servers may support these formats.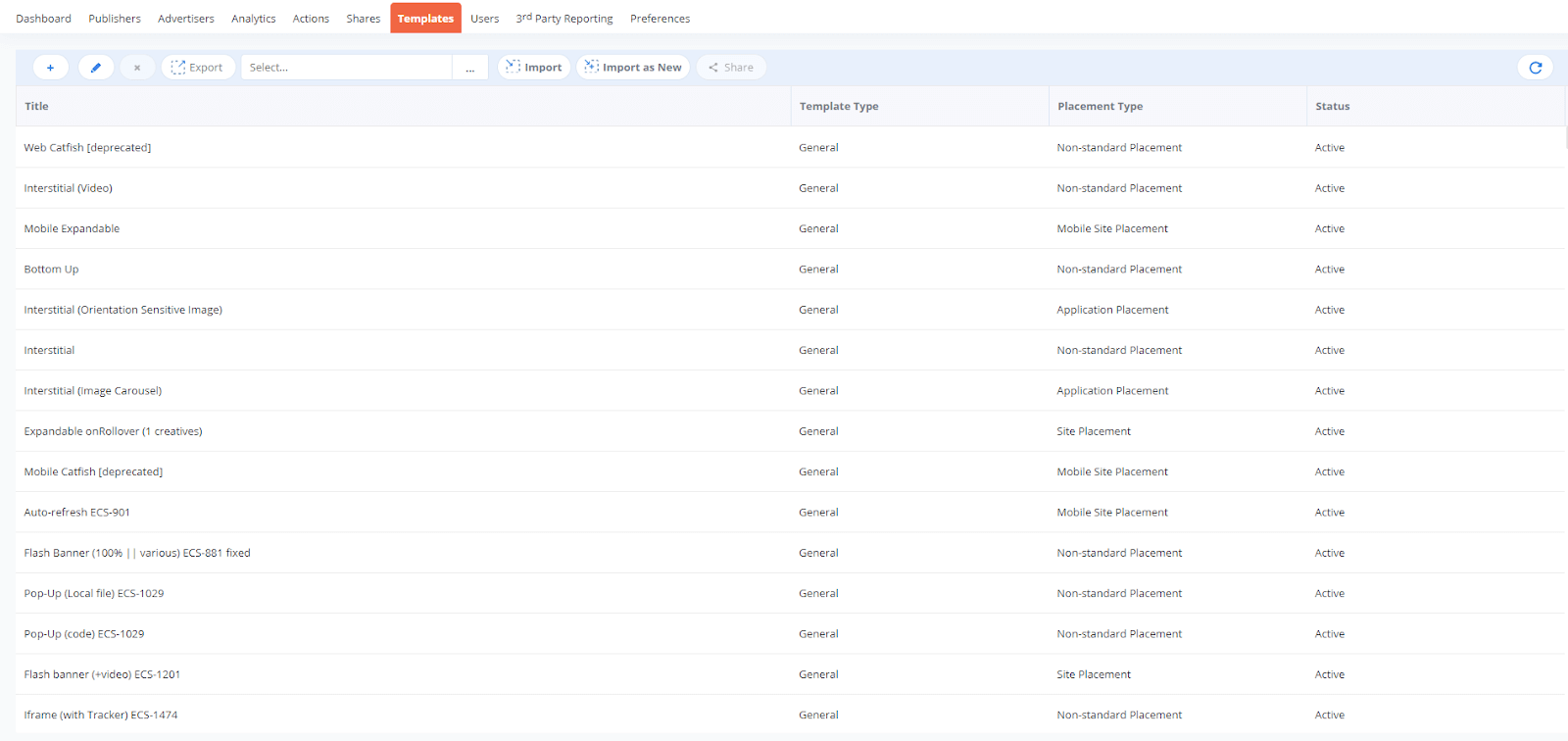 Sometimes, ad servers offer rich media templates to use instead of writing a complex script by yourself. That's a useful feature to look for in an ad server, as it enhances your profits without increasing time spent on managing your rich media ad serving.
Mobile Ad Server
A mobile ad server is the platform for those who want to run campaigns for mobile web, or app developers that are interested in in-app monetization. Mobile web advertising is not very different from the desktop display, so most display ad servers support mobile web inventory and creatives by default.
Things get trickier with in-app advertising. Publishers have to embed software development kit (SDK) in their apps and integrate your app's SDK and first-party ad server. After incorporating this kit, the creation of banner in-app placement is no different than regular display slots.
Native Ad Server
Native ad servers are designed to serve ads that don't look like ads. These creatives blend in with the regular content on the publisher's website and provide the least intrusive user experience to the visitor. That's why many ad networks favor this format and extensively offer such placements to their clients.
More advanced native ad servers, like Epom, also support JSON format, which spares a publisher from changing their website code. They can integrate native placements into their CMS system and serve ads with ease. Another cool feature is a native template adapter that adjusts each creative look for a specific website automatically, based on a pre-setup template.
How Does an Ad Server Work?
An ad server serves ads. The process is called ad serving. It's a key technology that allows you to place ads on the websites. That's the shallow water of the deep ocean of advertising. If you decide to swim beyond the buoys, you may be overwhelmed by how ad serving works behind the curtain. So let's decode this in eight simple steps:
Decoding a Direct Ad Serving Technology in 8 Steps:
In direct media buying, publisher's and advertiser's ad servers connect with each other without any intermediaries. In this case, the process of ad serving is quite straightforward:
Decoding a Programmatic Ad Serving Technology in 9 Steps:
There could be more links between the publisher and advertiser like demand- and supply-side platforms and ad exchanges, let alone numerous ad networks that often resell traffic to each other.
What is programmatic ad serving? Programmatic platforms require little-to-no manual adjustments, all you need to do is to sign up, upload your creative/list your placement, specify targeting options & budgets, and press on the launch button.
A demand-side platform (a tool for advertisers) or a supply-side platform (a tool for publishers) automatically defines the outcome of each real-time bidding auction. Programmatic is the simplest and fastest way to advertise your business or monetize your website. Some brands that don't need such extensive customization and control stick to programmatic platforms instead.
There are, however, ad networks and other big industry players that utilize both solutions and integrate them with each other. Some of their deals are direct, the others are programmatic.
So let's go through another case with a programmatic scenario.
How to Choose an Ad Server?
Before looking for the most appropriate ad server, enlist the main business goals of your advertising company. What capabilities should your ad server have to reach your goals?
For example, you are creating a video ad network. You'll have to find an ad server software suitable for video advertising activities. Your ad server has to support VAST or VPAID tags, track a bunch of specific metrics, and ensure video ads waterfall.
Or let's assume you are willing to experiment with XML advertising. Unfortunately, you won't be able to get by without XML functionality allowing you to pass the right parameters from publishers to advertisers. In this case, you will have to look for an ad server that sustains XML advertising.
Compare ad servers in terms of the cost. Most often, the ad servers follow the policy: the more traffic you run through the ad serving platform, the less you pay for every impression.
In addition to cost-effectiveness, the ad server should be simple to use. Ad serving technology isn't easy to understand at a glance, but the intuitive interface and hassle-free setup process will definitely make advertising more enjoyable.
Think over the key features your ad server should have. Choose three ad servers that fit your advertising goals and schedule a demo call with their teams. During the demo, you'll have a chance to look inside the ad server.
Some ad servers provide users with a free trial for getting used to the software. For example, Epom Ad Server offers a 14-day free trial. That's enough time to understand if you and this particular ad server are a good match.
What is a White-Label Ad Server?
Having a 3rd-party ad server on hand is great, owning an ad server is better. Especially when you're in charge of a large ad network that matches thousands of ads every day.
Yet, building your own ad server doesn't come cheap: it may cost several million dollars to get this software up and running. And don't forget about maintenance costs that you'll have to pay for the rest of your ad networks life. And... the time. You can't build an ad server in a week, this is what hurts the most.
That's what our CMO Lina Lugova said in her piece about how to build an ad network. And I agree with her as long as you decide to build it from scratch. The moment you consider to take advantage of white-labeling, I will take my words back: you indeed can build an ad server in a week.
So what is a white-label ad server? It's a ready platform, basically the same software you have already used as a service. With one telling difference: this ad serving platform is 100% yours and you can do whatever you want with its innards and outwards.
For example, you can change the theme of the interface. Adjust views, filters, and permissions. Give out accounts to publishers and advertisers. And enhance your brand image — now everybody knows that you have your own ad server since your logo is proudly engraved on top of your ad server's dashboard.
Ready to serve and impress? Sign up for the Epom ad server and start making a difference for your brand, your audience, and your customers.
Get Ad Server